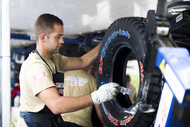 BFGoodrich® DAKAR SERVICE CENTER NEW FACILITIES AND ADDITIONAL SERVICES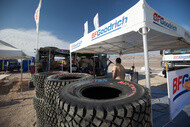 For several years now, BFGoodrich® has been the only tire manufacturer to offer Dakar competitors a comprehensive on-event tire service. Every day, even if they are not competing on BFGoodrich® products, participants can have their tires replaced or repaired between 3pm and 11pm (and from 9am on the mid-event rest day). A team of 10 technicians is on hand to assess the condition of their tires and/or provide advice on what pressures to run in accordance with the type of vehicle and the characteristics of the following day's special stage. The BFGoodrich® Dakar Service Center's technicians also play a listening role and are happy to lend an ear to competitors who need a little company or reassurance after a difficult day.
In January, participants will be welcomed at a bigger, all-new and even more versatile facility that is divided into a fitting zone, a display of the brand's Dakar tires, a hospitality area, and an area for casual visitors.
In the course of the 2019 Dakar, it is expected that more than 2,000 tires will be fitted and/or removed by the BFGoodrich® Dakar Service Center's staff, while the feedback received from drivers will be carefully collated before being forwarded to the Research & Development Center in Ladoux, near Clermont-Ferrand, France.
The facility takes two-and-a-half hours to erect and assembly begins at 10am every morning. It is then taken down again after closing time, before BFGoodrich®'s technicians and experts hit the road in two chauffeur-driven vehicles. They travel through the night to the next bivouac to make sure that everything is fully operational in time for the arrival of the first competitors to show the next day. The staff who work out of the BFGoodrich® Dakar Service Center are often described as the Saint Bernards of cross-country rallying!